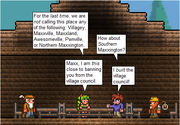 The Town Hall is one of the buildings from the Village. 
It only appears in Comic #284, when Maxx , June , the Merchant and the Demolitionist try to choose the name of the Village.
Maxx suggested the names of Vilagey, Maxxville, Maxxland, Awesomeville, Pwnville, Northern Maxxington and Southern Maxxington, as it can be seen in the photo to the right.
There are suspicions of it being a one time thing, as whenever we see them walking across the town, it is not shown.
Ad blocker interference detected!
Wikia is a free-to-use site that makes money from advertising. We have a modified experience for viewers using ad blockers

Wikia is not accessible if you've made further modifications. Remove the custom ad blocker rule(s) and the page will load as expected.