General Information
Edit

Michael was first introduced in comic #144 altough we could see him in the background before.
He's one of Remmy's buddies and he is an intern of the Archives of Truth, but as he says in comic 144, everyone left, so he is trying to keep things running.
The Archives are where the angels keep track of all the people in the world, past, present and future. 
But not monsters though, that's Gabe's job.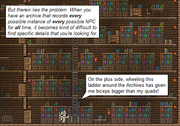 Ad blocker interference detected!
Wikia is a free-to-use site that makes money from advertising. We have a modified experience for viewers using ad blockers

Wikia is not accessible if you've made further modifications. Remove the custom ad blocker rule(s) and the page will load as expected.