General Information
Edit
Hannah is the nurse who was first shown in comic #90.She tore Aley's fairy fuzzy layer off in comic #99 and in comic #102 it was shown she has studied fairy physiology while training to become a nurse sometime before the comic started.Hannah also appears to have knowledge on the corruption and Maxx's possible future(comic #120).
Cyril
has a not so secret crush on her.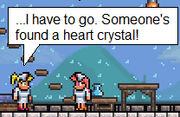 June seems to be fond of her.
Hannah uses her
Ad blocker interference detected!
Wikia is a free-to-use site that makes money from advertising. We have a modified experience for viewers using ad blockers

Wikia is not accessible if you've made further modifications. Remove the custom ad blocker rule(s) and the page will load as expected.