Weapons are items that deal damage to enemies(monsters) .
Known weapons
Edit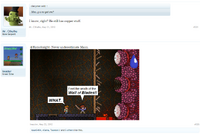 Until now, the weapons in The Legend of Maxx are:
Iron broadsword
Copper shortsword
Wooden sword
Bow and arrows
Axes
Maple's spear
Xane's red dagger
Xane's blue dagger
Goblin dagger
Goblin spike balls
Dynamite
Shampoo bottle
Aley's fairy laser
Sand shark hands
Ad blocker interference detected!
Wikia is a free-to-use site that makes money from advertising. We have a modified experience for viewers using ad blockers

Wikia is not accessible if you've made further modifications. Remove the custom ad blocker rule(s) and the page will load as expected.