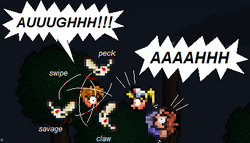 General Information
Edit
The Bird is a creature which appears in comic #114. It savages Cyril and severely wounds him for climbing up his tree (it is passive to everyone else except for Cyril) .

The bird shows how Cyril  is always being attacked by normally harmless things.
Maxx also says they may have bird rabies, a reason for Hannah to give Cyril a shot.
Ad blocker interference detected!
Wikia is a free-to-use site that makes money from advertising. We have a modified experience for viewers using ad blockers

Wikia is not accessible if you've made further modifications. Remove the custom ad blocker rule(s) and the page will load as expected.